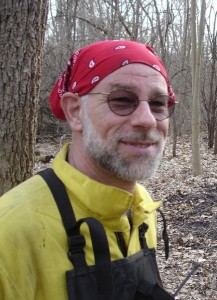 Since 2012, Creating Sustainable Landscapes works in residential, commercial, and public spaces to design and install sustainable landscaping solutions, the foundation of which features native plants. Owner Drew Lathin is an outspoken critic of conventional landscaping practices which destroy habitat, result in species extinction, and threaten the biodiversity upon which humanity and all life depends. His beautifully installed landscapes support wildlife, and reduces or eliminates resource inputs such as pesticides and supplemental water.
Drew has been working with and learning about native plants for 15 years on his own properties and is the former general manager of Great Lakes Native Plants, a provider of plants native to the Great Lakes region. He is a Master Conservation Steward and has been recognized by various organizations for his dedication to and accomplishments in the native plant movement.
Being a small company, Creating Sustainable Landscapes is able to listen deeply to our clients and their objectives. When it comes to landscape design ideas, no two clients are the same and no two projects are the same. When we start a project, we usually finish it before moving onto the next one.
During the warm season we run just one or two crews as the workload demands. We usually employ college students from a variety of fields and interns in majors related to natural resources. We pay them well and thus expect them to be involved in and apply their creativity to installation decisions. Drew personally manages all the projects to ensure they meet client needs.
Want to learn about landscape design? See Drew's 2018 speaking and teaching schedule here.
Here are some things our clients have said about us.
"Drew worked with me to select native deer-resistant trees, bushes and other plants for my front, back and side yards. He communicated regularly and consistently with me, and most importantly, he and his team showed up and completed the work (preparing plant beds, installing trees, plants and bushes, laying mulch) on the days that he said they would. He also kept within the agreed-upon budget. Everything that he installed is thriving. My yard looks wonderful and we're already seeing more butterflies in it! We're thrilled with his work and gladly recommend Drew." – Marcia L.
"We dealt directly with the owner, Drew. He is very knowledgeable about native plants… There was no clean up left for me as everything was cleaned up upon their leaving the site . Drew went over how to care for the plants in order to get them established. Drew also stated I could contact him at any time with questions . I was also pleasantly surprised that the cost was less than the original verbal approximation." – MRG
"He was generous with his time, listening to what we had in mind, and investigating what was already existing in our yard. He made a few suggestions, options, and a rough estimate, as well as a preliminary schedule, then gave us time to think about it… The work was done as per schedule (with some minor modifications due to weather and nursery availability), and under budget, and he passed on the savings by charging us less than originally quoted. Throughout the process, he was always respectful, had a sense of humor, and offered advice and insights for us to build on, beyond his specific scope of work. It was a pleasure, I I have recommended him to friends, and I would do work with him again." – amk
"Some of us can see the advantage of native gardening. We dream about an abundance of butterflies, hummingbirds, dragon flies, frogs and song birds. It is a goal worth achieving but the work and knowledge are not always part of our skill set. Drew Lathin has the skill set and the knowledge. He is an apostle of all that is natural and good for the earth and our gardens. Drew is honest, hard working, creative and knowledgable. I would highly recommend him for your landscaping dreams." – Linda P.
"Drew is extremely knowledgeable and very open to customer's input. He was very easy to work with, came on the days he said he would and stayed within our budget. We hope to able to do some more work with him in the future. Highly recommended." – dkc
"The Crew was punctual, polite and boy did they work! Drew delivered exactly what was estimated when he said he would deliver it. So far no water issues and we have a showcase garden admired by all our neighbors. We love the results so much that this has become phase 1 of our landscape project. Don't fight with your landscape or your landscaper. Use Creating Sustainable Landscapes to put native Michigan plants to work to create a habitat for your home." – Kim R.
"UPDATE: 8/12/14–After the worse rainstorm since the 1960's, our water garden stood up to the test. It handled all the water from our house and several of our neighbor's yards. 24 hours after our 5.5 inches of rain, our yard is completely drained!!! And no water in the basement.!!! Than you to Drew for his extensive expertise." – Kim R.
"Our project was to create an all-native landscape for over 1/2 acre on steep inclines, clay soil, wetlands and rain gardens. Over 40 species of plants were utilized. The people of Creating Sustainable Landscapes were methodical, budget conscious, and the most knowledgable in native plants of any landscape company we interviewed. And, importantly, communication was excellent – all of our questions and concerns were professionally addressed. We can not recommend them more highly." – Art R.
"There are few companies anywhere with the depth and expertise in native and sustainable landscapes. Creating Sustainable Landscapes really transformed the way we think about suburban gardening. I had the pleasure of working with Drew Lathin after the University of Michigan BLUElab Team from the College of Engineering hired him as the sustainable landscapes consultant for the Living Buildings Challenge Team for my 113 year old folk Victorian home. He's fantastic! You won't find anyone with this type of design skill, passion and expertise." – Matt G.
"I hired Creating Sustainable Landscapes to design and build a rain garden in my backyard. It was a challenge as we have a large drainage pipe that dumps a lot of water there at fairly high flow rates. Drew came up with a neat plan of using 3 step-pools that would capture the water and smoothen out the flow. His team worked hard (and they are perfectionists!) to get it right. I was always involved, from design to plant selection to opportunities to work alongside them. I think his single best attribute is his willingness to teach. Drew has a passion for his work and was always eager to explain things so I can learn and understand what is happening in my garden with time. Tremendous knowledge of plants, bugs, food chains, competition/ natural selection… phenomenal educator. Outstanding experience." – Praveen D.
See all of our reviews (all 5 star) here.